Juveland has been transformed into a teenage brand thanks to new branding
25 July 2019
The company has radically changed the branding of Juveland jelly chewing candies that have been present on the market for over 10 years. Thanks to new concept, Juveland has been transformed into a teenage brand.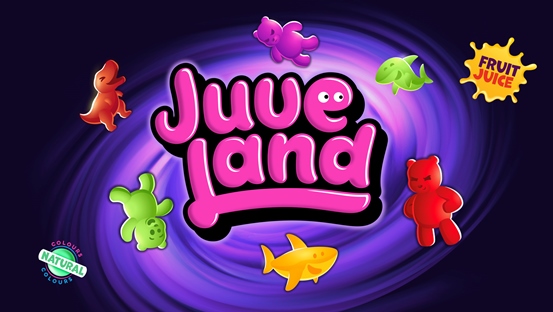 After numerous audience research and market monitoring, AVK's brand team has come to the following conclusion: in order to foster loyalty and increase market share, an updated brand must meet the preferences of the target audience and follow the trends. For this purpose, a bright and crazy JUVELAND world has been created, which combines the most daring teenage fantasies.
As a result of the research, the Cyrillic spelling of Zhuvilend (Жувіленд) has been changed to Latin one – JUVELAND. Relatively, Party Sharks, Bear's Band and Dino Zorro English names have been developed for the entire line, which give each pack a specific character.
The stylized letter "e" in the logo is Zhuvik brand character, who plays the role of a carefree and cheerful guide to the fascinating Juveland world. He expresses different emotions: winks, teases, squints or just laughs. The main element of the pack is the portal itself, it contrasts against a black background and is enhanced with the fun characters that fly around.
"The updated brand extends opportunities of reality through the portal and gives access to the world of fiction and creativity. The world, where you can boldly implement any ideas without any restrictions", tells Tetiana Korovina, Category Manager.
In the search for the best design solution, the team delved into the world of computer games, graffiti, stickers, trend music, youth blogs, and everything the audience lives up to.
"We have combined the aesthetics of primitive computer games and animation without the use of product design," says Roman Roy, the company's Marketing Manager.
The updated JUVELAND is actively entering the market, beginning an exciting journey, during which its full potential will be unleased.

Back