KRESKO TURNS ON SPRING WITH SVITLANA TARABAROVA!
23 March 2021
With spring 2021 around the corner, bright and inspiring Svitlana Tarabarova became the face and ambassador of multigrain snacks by national brand "KRESKO". The popular track "Meni kazkovo" ("I feel fabulous") sounded loud and crackling!
It's no coincidence that Svitlana was chosen the ambassador for KRESKO brand, she is a popular singer, radiant, tender and fragile, cheerful girl. Moreover, she is a young mother of TWO adorable babies!
Especially for the KRESKO advertising campaign, Svitlana adapted her song "Meni kazkovo" and created a bright single "Meni Kreskovo". Svetlana's creative work, her values ​​and the brand's goal closely intersect and inspire the creation of a single bright concept.
"I love the feelings that are born in the synergy of two positive waves. Creating with KRESKO was surprisingly easy, simply listen to the track or watch the video. I'm sure that the wave of positivity will leave you no chance for bad mood." - shared her feelings the singer.
Representatives of the brand urge their customers and fans to turn on more Ukrainian music on music channels, listen and enjoy it utilizing a high-quality national product. For this reason, each KRESKO package contains an interactive QR-code which allows you to download the track instantly and for free. Look forward to the future that is about to offer you many more interesting surprises.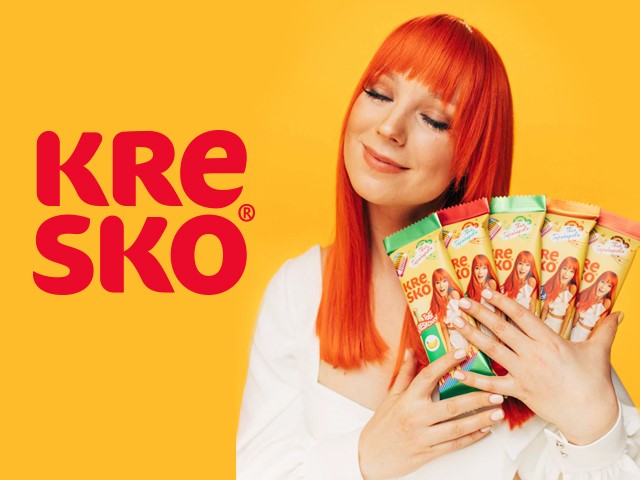 The image of a bright and active singer concurs with the mood of the brand: it is the same cheerful, energetic and carefree state of mind that follows you fon a walk, on a trip, and with bunch of friends in the cinema! KRESKO multi-grain figures and sticks are a modern snack based on natural and healthy ingredients that do not contain palm oil. The unique production technology allows you to preserve all the beneficial properties of cereals, minerals and vitamins. Seven cereals inside are a source of dietary fiber, while natural fruit and chocolate fillings give a bright and upbeat mood for the whole day.
Take a breath, feel the spring, get filled with the radiant inspiration of KRESKO!

Back